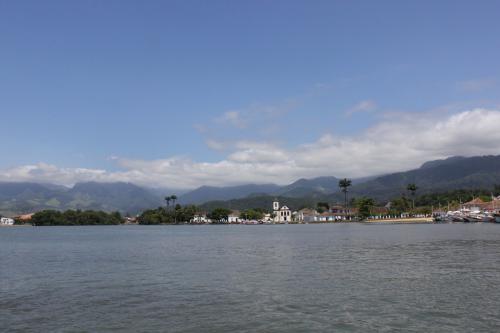 But first, get­ting from Iguaçu Falls to Paraty via Sao Paulo and 24 hours of bus travel.
On the national park bus we left the park, out­side we waited for the sun­day bus into town. In town, at the bus sta­tion we worked through the portugese-english lan­guage bar­rier to deter­mine when the next bus to the 'rodoviaria' was, i.e. the large out of town bus stop for long dis­tance travel.
Many con­ver­sa­tions with Brazil­ians fol­lowed this pattern,
"Do you speak Eng­lish?"
"Não, por­tuguês?",
"No",
"Espan­hol?"
"No"
At which point they lift their hands in the air and look exas­per­ated. But then they always seemed to go out of their way to find some­one that spoke Eng­lish, or to help us as best they could. In this case we ges­tured with hand sig­nals to work out the time and used fin­gers for num­bers, before even­tu­ally an Eng­lish speaker mate­ri­alised and explained every­thing. Our bus arrived, we were starv­ing but didn't want to miss our coach.
Three buses down and we were ready for our 16 hour long sleeper bus to São Paulo; but not before some greasy spoon fast food from the only food out­let in the bus sta­tion. Bus sta­tions are uni­ver­sally hor­ri­ble. I had the weird­est pizza, I thought it was olives, pep­pers and sweet­corn, but it was processed chicken, peas and sweet­corn, no tomato.
We waited an hour or so for our bus, and passed the time with a bit of live foot­ball. We met an Aus­tralian bio­chemist trav­el­ling alone and on the same bus as us. She was half way through a year long world trip and had even booked a trip out to Antarctica.
Board­ing time at last! We locked up our bags, weighed them, tagged them and threw them in the hold. We showed our pass­ports and tick­ets and boarded our 'leito' sleeper bus. The seats were like arm­chairs; wide and com­fort­able with a handy fold-down leg rest. On an old CRT screen at the front were movies in Por­tuguese; 'I am Leg­end', Harry Pot­ter and 'Night at the Museum 2'.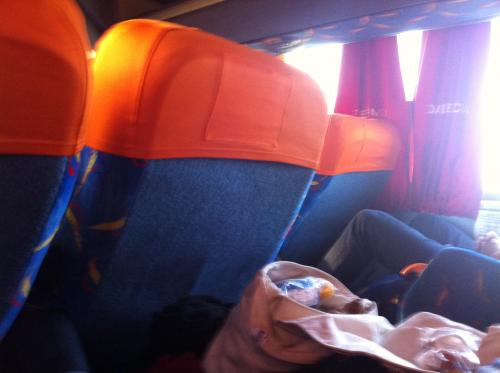 We set off slowly, head­ing out of Foz do Iguaçu onto the two lane high­way and east­wards. The sun began to set and we had a road­side view of Brazil, through rolling green hills with rich red soils, through small towns and pass­ing full to the brim churches, over­flow­ing with peo­ple prais­ing God. We stopped at Lon­d­rina for another pick-up and the bus filled up. The sun dis­ap­peared and the road beckoned.
Every four hours we stopped for a walk­a­bout, food and a toi­let break, with the occa­sional stop in-between where we couldn't work out what was going on. The ser­vice sta­tions give you a slip with menu items when you enter. You tick off the things you buy, and pay on exit. From a large road­side can­teen we ate bread­crumbed fried chicken and lamb kof­tas, avoid­ing the strange look­ing per kilo buffet.
Don the eye masks, the ear plugs and the head­phones and we're set for some uncom­fort­able travel sleep­ing. We man­aged to get about four hours each, per­haps more, it's hard to tell. Appar­ently in the night we stopped for a 'police search', our Aus­tralian friend had her bags searched and was asked if she was car­ry­ing cocaine.
At 6am we were woken from our slum­ber for another food stop. In the thick early morn­ing fog we tried some break­fast. This place looked nicer, so we ordered some cof­fee, what a ter­ri­ble mis­take. A weird choco­laty sludge came with a cen­time­tre thick encrusted milk top­ping. I tried to scrape it off, but it just left huge chunks of yuck in the drink. Just think­ing about it I'm turn­ing pale. That cof­fee made the last four hours that lit­tle bit more queasy.
The jour­ney into São Paulo took an age, the huge con­crete city sur­rounded us as we chugged through early morn­ing Mon­day rush hour. The city seemed more afflu­ent than Rio, at least from the small slice we saw. On the pil­lars of huge over­head high­ways were intri­cate graf­fiti, not unlike what you might see in Brighton. Art­ful and vibrant.
90 min­utes late we reached the rodoviaria. We picked up our next bus ticket and waited for the fifth and final bus in a bus sta­tion café, reclin­ing on a leather sofa next to a piano and our large blue and red back­packs. Happy to be off the bus, we shared a cia­batta and freshly made fruit juice. The guy at the bar was excited to try out his Eng­lish, and Sam had a con­ver­sa­tion with him, as she loves to do.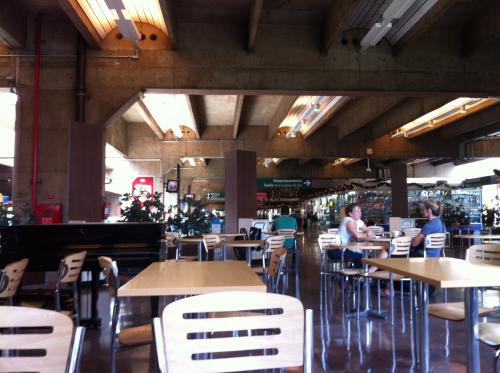 Before we knew it we were board­ing a reg­u­lar Costa Verde coach towards Paraty; this jour­ney would only take six hours. It was much the same; road after road, cars over­tak­ing us, a ser­vice sta­tion stop (with some goats and baby chicks), reclin­ing seats and leg rests. I lis­tened to Joni Mitchell and Sam tried to sleep.
As we neared the coast the route grew hilly, with gor­geous sea views. The bus accel­er­ated around U-turn cor­ners, down towards the sea, through coastal vil­lages, over their belly-in-mouth speed bumps, and back up the hill, over to the next vil­lage with more of the same. We endured three hours of stuffy queasi­ness trav­el­ling through Caraguá­tuba and Ubatuba. It was almost too much for Sam, and she tried to ignore it, but the rock­ing and sway­ing was cease­less. In the mean­time my appetite returned and I gob­bled up all the snacks we'd been lug­ging around with us since Rio.
For­tu­nately we had a ser­vice sta­tion stop, a break from the move­ment and a chance to recover. After­wards the bus wasn't so bad, and I slept the last two hours.
At 6pm on Mon­day, about 27 hours after set­ting off, we arrived in Paraty, thor­oughly exhausted and need­ing a shower. We grabbed a fixed rate 20 reais taxi with a one armed dri­ver to our hotel, Eli­co­nial, a short walk out­side of town and on Praia do Jabaquara.
All we wanted to do was check-in, but the wel­com­ing French man, Yvan, com­pli­cated mat­ters by push­ing us towards stay­ing more than one night at a bet­ter rate in a bet­ter chalet, along with a story about the stan­dard rooms being unavail­able the fol­low­ing night. Our inten­tion was to stay longer, but we wanted to scope the place out first. What­ever, let's do the good one, it was only a few reais more.
Inside we had a liv­ing room, a kitchen and a bed­room, all packed into a small space. The room felt dark, but then we had the shut­ters closed to stop the mos­qui­tos get­ting in. There was a pleas­ant swim­ming pool and jacuzzi, and Heli­co­nia plants are every­where. By the pool is a green par­rot with clipped wings, under the seats cats lie in the shade, and there's a dal­ma­t­ian puppy run­ning around too, look­ing cute for all the guests. It's a fairly small place, with only about eight rooms.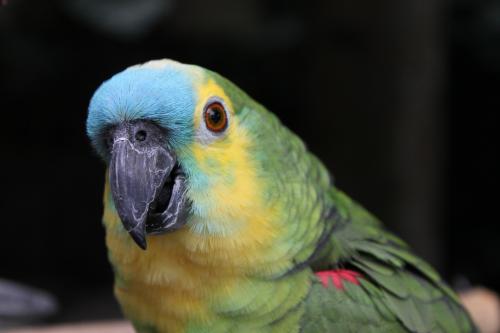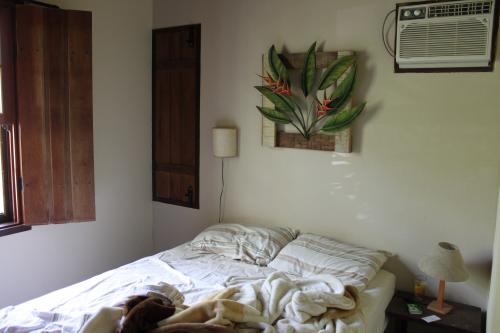 "It's safe here, you can go any­where at night, even walk along the beach", were wel­comed words. Hav­ing spent so much time in Rio (and on the buses) stress­ing about safety and valu­ables this came as a great relief.
A quick snooze on the firm beds, a wash, and we were out look­ing for a decent cooked meal. The guys rec­om­mended a pizze­ria down the road, Sereia do Mar hos­tel. Amongst the wooden beams, the nearby beach and the blast­ing 90s music, we sat down and ordered all you can eat pizza.
This place was vibrant and filled with young inter­est­ing peo­ple, even if it felt a bit like a surfers par­adise. Two caipir­in­has for ten reais was the cheap­est we'd seen, and the pizza was cheap and very tasty too. Per­fect, let's have another two cocktails.
Then we stum­bled home, a cou­ple of dogs fol­low­ing us around, back passed the foot­ball pitch where kids had been play­ing, some empty look­ing pou­sadas and a cou­ple of beach side huts, to the end of the road and our hid­den hotel.