I've always had the urge to do a sky­dive, to jump out of a plane from a great height. I joked about doing it for my stag do, but an oppor­tu­nity never arose. Until two months ago when friends Marek and Linda decided it was some­thing they both wanted to do and that they should just do it. I decided to tag along.
One month later we had a date and it was booked, with UK para­chut­ing. For a month, more and more, I grew ner­vous. The mere thought of it made my stom­ach turn, but I always put it to the back of my mind. At least until Sat­ur­day July 21st, the big day.
After an inter­nal Last.fm hack day, Marek, Linda and I headed down to Brighton, had some Japan­ese take­away and filled in the paper­work. Then an early night and an early start, leav­ing at 7:30am to get to Bec­cles, in Suf­folk, for midday.
After a false start, and a few hours drive north, to the tunes of M83, we arrived at Bec­cles air­field, nerves frayed and anx­ious to get on with it. Marek had turned a slightly paler shade of white. Look­ing up, there were seven colour­ful para­chutes com­ing down to earth.
We paid our cash­monies, I bought the video (a guy will be fly­ing down with me film­ing the whole thing), and we swiftly pro­ceeded to the hangar for our briefing.
A stocky fella you wouldn't want to mess with gave us the brief­ing for our tan­dem dives. We'll be attached at the shoul­ders and the waist, he said, hold­ing a black har­ness up for every­one to see. These are the posi­tions you need to take for the jump; bend your legs back behind you, cross your arms on your chest and put your head back; for land­ing make sure you put your legs up as high as pos­si­ble. He waved pho­tos in front of us, and we made men­tal notes, weary of doing any­thing wrong. And here are your jumpsuits.
We put on the tight, but rather styl­ish, blue jump­suits and were trans­formed into geeky super­heroes. Then we donned the har­ness which was ever so tight on the groin, these things clearly weren't made for walk­ing in. And then the leather cap to fin­ish it off, it cov­ered our ears and held the gog­gles in place.
By this time most of my nerves had gone, it's always the wait­ing that's worst. This whole time peo­ple were land­ing next to us, com­plet­ing their jumps, and every few min­utes a new plane went up, the rou­tine was com­fort­ing. We stood on the run­way and waited for our ride and tan­dem part­ners. The stocky guy that gave the brief­ing would be strapped to my back.
The air­craft was tiny, and with­out seats. Seven of us were jump­ing, and we squeezed in, sit­ting between each oth­ers legs. It would take ten min­utes to reach the jump­ing alti­tude of 10,000ft. And off we went, climb­ing higher and higher, the great flat expanse of Suf­folk grow­ing beneath us. Higher and higher, there's no turn­ing back now. Towards the clouds, through the clouds and above the clouds.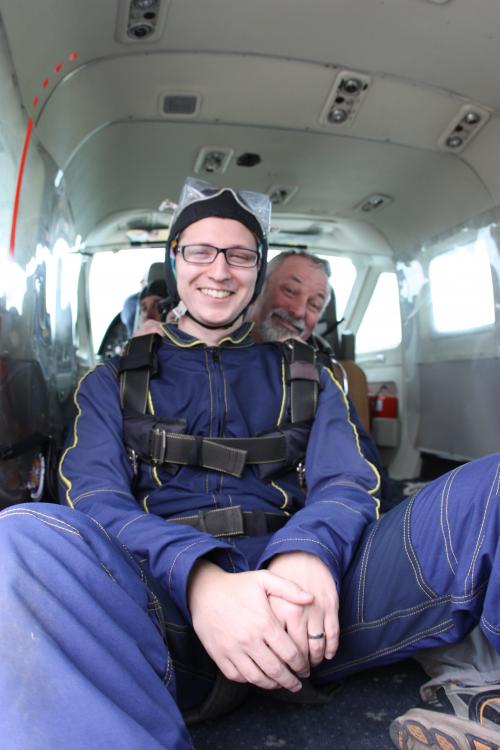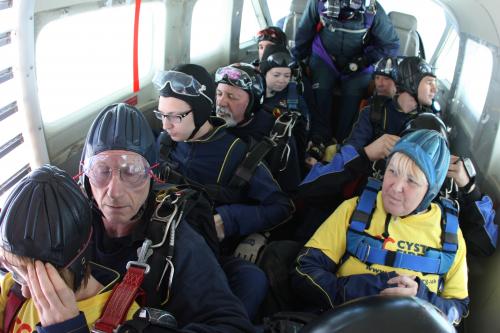 Then the air­craft slowed down, and the time had come. The hatch opened and the girl in front of me was gone, falling to the ground. My turn next. No time to think, do what they say, feet out and crossed behind the plane, lean back, look at the cam­era. Jump.
OH SHIT! My gen­uine first thought, as the unnat­ural feel­ing of weight­less­ness takes hold. We roll over, and I look up at the clear blue sky and the under­belly of the plane fly­ing off.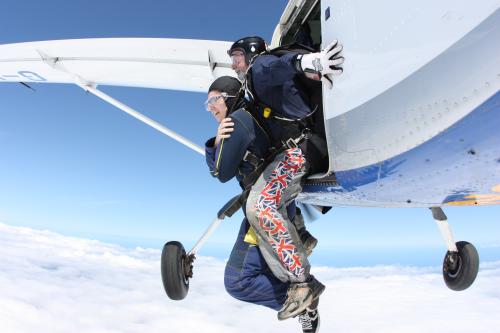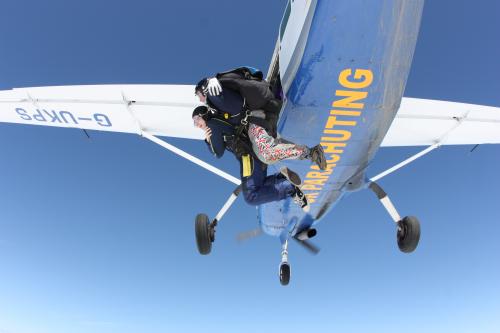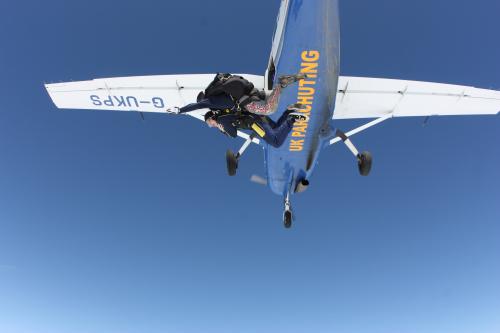 Now the weight­less­ness dis­ap­pears, and all you can feel is the rush of air against you, get­ting stronger and stronger as you accel­er­ate up to 120mph. But as you're falling you have time to think, to notice that the cloud is get­ting closer, to think about your breath­ing as the wind tries to take your breath away. And to think, this is amaz­ing, this is mag­nif­i­cent. I was breath­less and awestruck.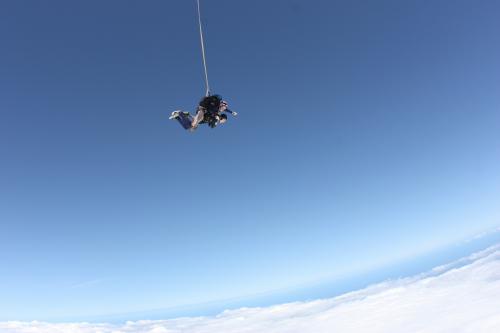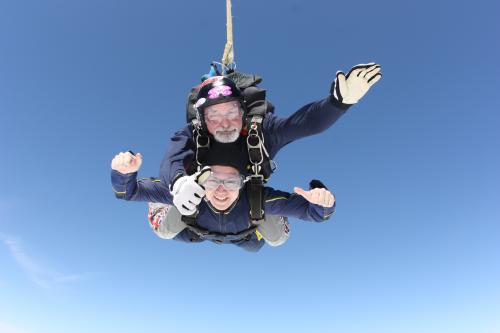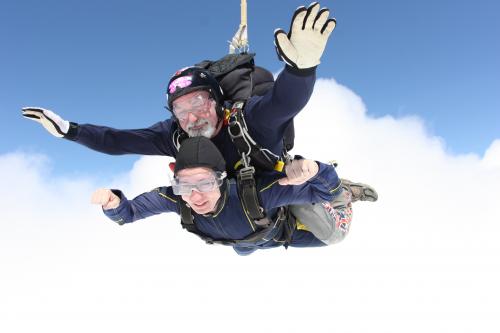 I put my arms out and felt the air fly past me, and then we hit the cloud, and we're falling through fog. The mois­ture gath­ers on my face, and it's refresh­ing. Then the para­chute is deployed, a sharp halt and I switch from a falling to a stand­ing posi­tion. I watch as my cam­era­man dis­ap­pears into the fog beneath me, like some weird scene in The Nev­erend­ing Story. And all is quiet again, the rush­ing wind stops and the fog clears.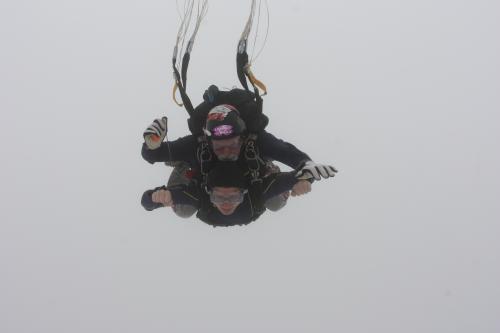 I look up and see the blue para­chute above me. I look down, I see my feet, my famil­iar Con­verse shoes, and then a field, a long long way down. I am float­ing in the sky, it is silent, and won­der­ful. Except per­haps for the tight­ness across my chest.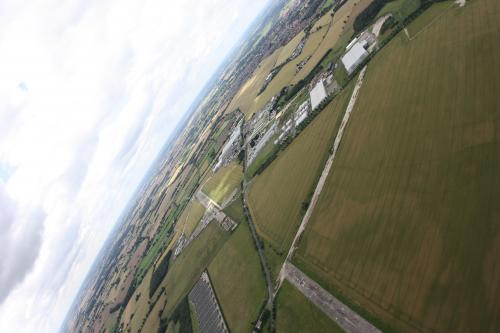 The silence was unex­pected, the guy on my back points out the sights as we descend. Great Yarmouth, Nor­wich, the sea, and so on.
Then, unex­pect­edly, it's my turn to con­trol. I put my hands in the yel­low para­chute chords and my instruc­tor tells me what to do. Pull your right arm down, I do, and we swing down­wards to the right, I lift up, and we stop. So respon­sive. Then the left arm, and we turn to the left, the more I pull down the sharper we turn. Then round and round and round, and now I'm just queasy from the dizziness.
Beneath me I see the plane land­ing, and the land­ing zone. I relin­quish con­trol and we come in for our land­ing, legs up, legs up, and down, bums skid­ding across the grass, back on solid ground. With an ear to ear grin, I shake the guys hand and sit back to watch Marek and Linda land­ing behind me.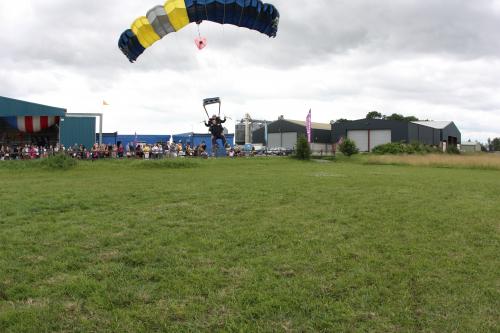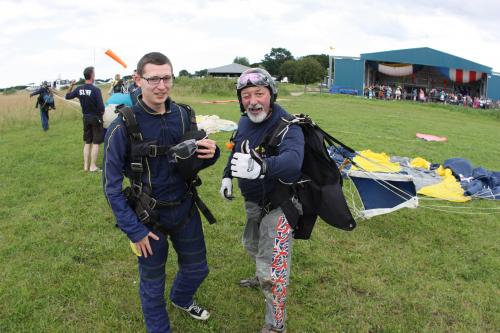 Woooo! Wow. Wow. How incred­i­bly amaz­ing was that? I cel­e­brated with a vic­tory crois­sant and we drove into Bec­cles for some lunch.
The fluffy white clouds cleared, and for the rest of the day we sat on the beau­ti­ful sandy Low­est­oft beach. The Eng­lish sum­mer had finally arrived, and what a way to cel­e­brate it. After some pad­dling, rest­ing on the sand, a dis­cus­sion about the best sand cas­tle tech­nique and some ice cream and Dr Pep­per, we headed home.
The long drive south went faster this time. Over the QEII bridge at Dart­ford, the Lon­don sky­line looked fab­u­lous against the set­ting sun. We fin­ished up with A Bob Dylan album, and we parted ways at Gatwick.
Would I do it again? Of course! But we may wait for Google Glass first.